Thinking about buying the new 2015 Ford Mustang at Marty Franich Ford in Watsonville, CA? We understand. The all-new Mustang honors what Mustang has always been and always will be, while boldly charging into new aesthetic territory, confidently staking its place in the long line of storied Ford legends.It begins with the brand-new, vintage-style fastback. Even with the lowered decklid, the cargo volume and opening have been retained ? even improved in some measures, thanks to the all-new independent rear suspension. And the interior features a number of new driver and passenger comfort and convenience enhancements. View our inventory of 2015 Ford Mustangs.

Talk about new technology, the 2015 Mustang features its first-ever EcoBoost®engine - a 2.3L marvel of power. Exhilarating power combined with efficiency that Mustang drivers will call icing on the cake with 310 hp and 320 lb.-ft. of torque. Exceptional power combined with best-in-classEPA-estimated 21 city/32 hwy/25 combined mpg, the 2015 Ford Mustang is exactly what drivers around Merced have wanted.

A new optimally sized twin-scroll turbocharger separates the exhaust runners in two chambers that run all the way to the turbine. This transfers high-pulse energy to the turbine wheel, resulting in ultra-fast time-to-torque. If that sounds too technical, don't worry - you?ll understand when your foot presses the gas. To put the numbers in perspective, consider this: This new EcoBoost engine has more horsepower with only half the displacement of the 2005 Mustang GT 4.6L V8. That?s incredible progress in just 10 years.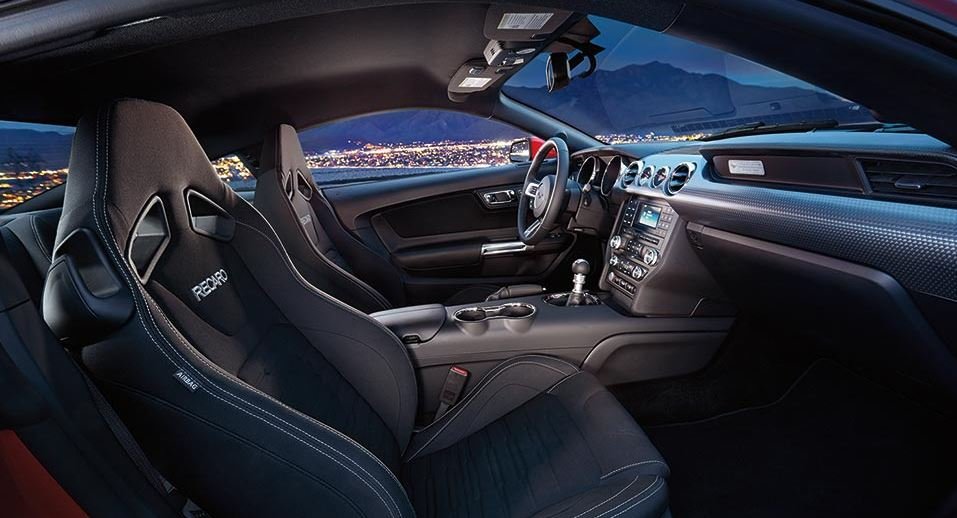 In 2015, Mustang models are equipped with the most capable brake lineup ever offered on a Mustang.
V6and EcoBoost® models
Front:Twin-piston with 12.5 inch vented rotors
Rear: Single-piston with 12.5 inch rotors
GT model and EcoBoost Performance Package

Front:Four-piston with 14 inch vented rotors

Rear: Single-piston with 13 inch rotors

                       


GTPerformance Package

Front:6-piston Brembo® with 15 inch vented rotors

Rear: Single-piston with 13 inch rotors
The available voice-activated NavigationSystem includes a free five-year subscription to SiriusXM Traffic and Travel Link34 which combines Global Positioning System (GPS) Technology with 3-D mapping and provides voice-guided turn-by-turn direction.  WithSiriusXM Traffic and Travel Link34, you'll get detailed traffic information, plus current and forecast weather, gas station locations and prices, sports scores and schedules, and theater locations with movie listings and times.

The 2015 Mustang truly is all-new, with brand-new suspension systems in both front and rear.  The new double-ball-joint from suspension improves high-performance driving dynamics, allowing for larger brakes without excessive wheel offsets that would affect steering feel.  Schedule a test drive today of the new 2015 Ford Mustang at Marty Franich Ford today!